Fresh Stats from the World of Digital Marketing
As soon as you think you have a grasp on how digital marketing works and which strategies to employ, new studies demonstrate just how quickly the marketplace, tools, and strategies change and evolve.
The following is a look at several fresh stats from the world of digital marketing, with insights on what they mean for your business.
Stories Fuels Instagram Growth
According to its own stats, Instagram has seen strong growth in user activity powered by its Stories feature. The company boasted over 250 million daily active Stories users in late June, up from 200 million just a couple months earlier.
This stat reveals first, that Instagram remains strong and is seeing steady growth thanks to the enhanced capabilities of its technology. More generally, it reveals the engagement value behind "Stories" features or content curation that have become popular in recent months on Instagram, Snapchat, and Twitter (Moments).
Video on the Rise in Content Distribution
The trend toward more video content is evident in the following graphic from HubSpot, which identifies the percentage of marketers looking to add to each format over the next year. Forty-eight percent reported that YouTube was their primary channel for increased content distribution, with Facebook video coming in just behind it with a 39 percent response.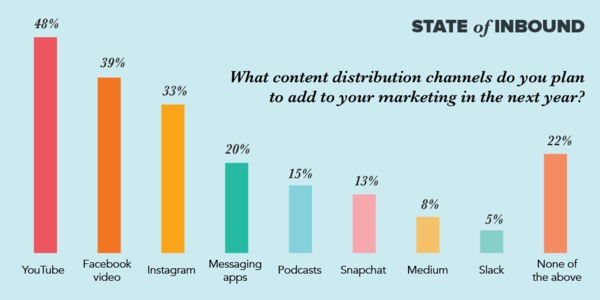 Graphic via HubSpot.
Young Audiences Lead the Ad Block Charge
Not surprisingly, people between the ages of 13 and 25 are among the most aggressive with their usage of ad blocking technology. Roughly two-thirds, or 66 percent, of the respondents in this age category in a Defy Media's Acumen Research and TMI Strategy study reported having an ad blocker on at least one device. The report, which was presented at the recent VidCon conference, noted that young users are more open to advertisers that attempt communication that is less intrusive, particularly on social media platforms.
Search Remains Dominant in Lead Generation
Two recent stats reinforce the ongoing power of search engine optimization in driving web traffic. Vimeo noted that 93 percent of all online experiences begin with a search, which is in line or even higher than similar data from recent years. For typical consumers and business buyers, Google is the place to go to begin investigating a problem or need.
Closely related, 57 percent of B2B marketers indicated that SEO was their top lead generation strategy, according to HubSpot. Regardless of all the other great digital tools you integrate into your campaigns, don't forget the gold standard search engines.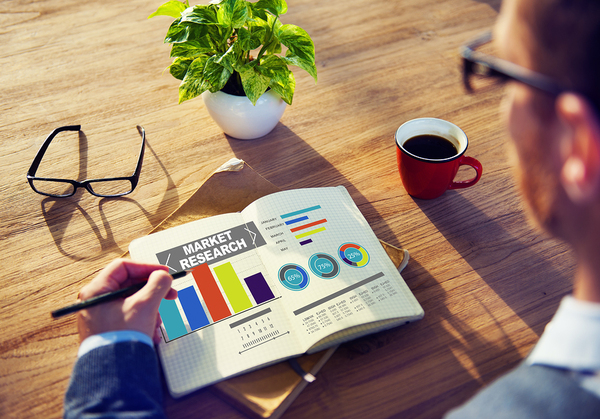 Conclusion
While you can find some variance in data based on the study and parameters, over the course of time, patterns and interpretations are fairly clear. This set of recent data points speaks to the continued evolution of the digital marketplace, but also reinforces the value of SEO and content marketing.
Are you feeling as though it's hard to keep up with all the changes in the industry? We can help. Contact our Director, New Client Development – Amanda Sparks, and get expert help from a top digital marketing agency! We aren't your typical agency – ask us why or click to learn more.